15 Nov

Holiday Cocktail Smokies Sauce
Holiday Cocktail Smokies Sauce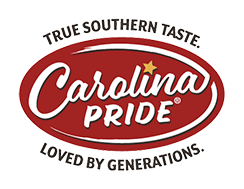 Recipe Description
Cranberry sauce and orange juice add a sweet glaze to savory Carolina Pride cocktail smokies, making this a great party appetizer.
Yields
15-20 Servings
Spread the Word
Ingredients
1 (14oz.) pkg. Carolina Pride Cocktail Smokies
½ cup orange juice, no pulp
¼ cup water
Dipping Sauce
1 (14oz.) can cranberry sauce
½ onion, small yellow
½ C spicy yellow mustard
2 Tbsp. honey
½ tsp. garlic powder
½ tsp. salt
Directions
1. In a crockpot, put Smokies in and pour orange juice and water over. Cover and warm on medium heat. Stir occasionally.
2. For dipping sauce, put all ingredients in a blender or food processor and puree until smooth.
3. Serve dipping sauce along side warm Smokies.
Contact Carolina Pride
We Want to Hear from You!
Have a question or comment? Trying to reach one of our team members about a business issue?
Click on the link below to connect with our team.