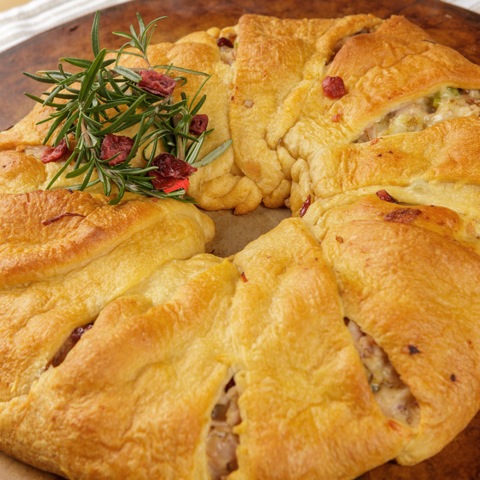 25 Jan

Turkey Cranberry Wreath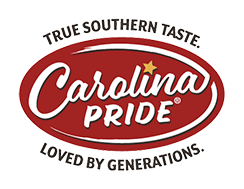 Recipe Description
Made with Carolina Pride oven-roasted turkey breast and cranberries, this hearty and attractive wreath is great for the holidays or any time of year.
Yields
Spread the Word
Ingredients
2 cups Carolina Pride Oven-Roasted Turkey Breast, chopped
2 pkgs. (8 oz. each) refrigerated crescent rolls
½ cup mayonnaise
2 Tbsp. honey dijon mustard
½ tsp. coarsely ground black pepper
½ cup celery, sliced
3 Tbsp. fresh parsley, snipped
½ cup dried cranberries
4 oz. Swiss cheese, shredded
¼ cup walnuts, chopped
1 egg, separated
Directions
Preheat oven to 375°F. Unroll crescent roll dough and separate into 16 triangles. With wide ends of triangles toward the center, arrange 8 triangles in a circle on a large, round pizza stone. Corners of wide ends will touch and points will extend 1 inch beyond edge of stone. Match wide end of each remaining triangle to wide end of each outer triangle. Seal seams (points will overlap in center; do not seal). Mix mayonnaise, mustard and pepper in bowl. Add turkey, celery, parsley and cranberries. Add cheese and mix well. Scoop filling over seams of dough, forming a circle. Sprinkle walnuts over filling. Beginning in center, lift one dough triangle across mixture. Continue alternating with outer strips, slightly overlapping to form wreath. Tuck last end under first. Beat egg white lightly; brush over dough using pastry brush. Bake 25-30 minutes or until golden brown. Slice and serve.
Contact Carolina Pride
We Want to Hear from You!
Have a question or comment? Trying to reach one of our team members about a business issue?
Click on the link below to connect with our team.