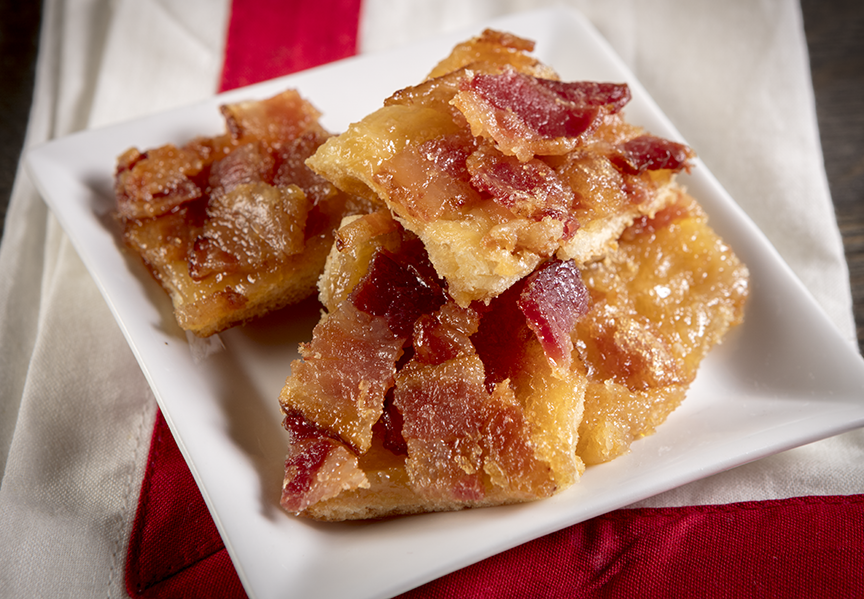 17 Nov

Carolina Pride Bacon Bark
Carolina Pride Bacon Bark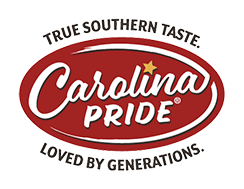 Recipe Description
Maple syrup and caramelized brown sugar give Carolina Pride bacon a sweet twist.
Yields
15 – 20 servings
Spread the Word
Ingredients
1 pkg Carolina Pride Thick Cut bacon, cooked according to directions, drained
1 pkg Crescent rolls, cold
2 C brown sugar
1 C maple syrup
Directions
1. Preheat oven to 325 degrees.
2. Line with parchment paper a 10 x 15 baking sheet with a rim. If you do not have parchment paper on hand, foil can be used, just spray heavily with non-stick cooking spray.
3. Unroll the crescent rolls onto lined baking sheet and pinch any perforations together to make sure it is completely sealed.
4. Take cooked, drained and cooled bacon and tear or cut into pieces.
5. Drizzle ½ of the maple syrup and sprinkle ½ of the brown sugar and spread evenly over dough. Take half of the torn bacon and sprinkle then repeat the process again.
6. Bake for approximately 25 minutes or until bubbling and has that nice caramelized look.
7. Remove form oven, when at room temperature cut into pieces.
8. This is best to serve the day of or can be stored in an airtight container until the next day.
Suggested toppings: Chocolate covered candies, nuts
Contact Carolina Pride
We Want to Hear from You!
Have a question or comment? Trying to reach one of our team members about a business issue?
Click on the link below to connect with our team.